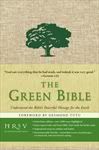 Harper-Collins is publishing a new edition of the NRSV Bible with an ecological twist. Hearkening back to the traditional "red-letter" Bibles, this
"green-letter" Bible
uses green to highlight ecology-minded passages, is printed on recycled paper using soy-based ink, and is bound in a cotton/linen cover.
The Green Bible may be understood as the textual component in a shift in certain Christian theology that is taking place. As
an MSNBC article
summarizes it,
While some Christians have been active on these issues for decades, others – particularly Evangelicals – have long questioned the justification and aims of environmentalism. Many conservative Christians have viewed it as a "leftist" issue, sometimes bordering on pantheism. In recent years, however, some prominent evangelical leaders have been converted by the evidence of climate change, and in 2006, they signed the Evangelical Climate Initiative. Others continue to dispute the evidence.
Iconic books have long been used to stake dogmatic and theological claims—here we recall the late medieval controversies over Bibles in English—and this one makes the same move by manifesting its values in its physical form.