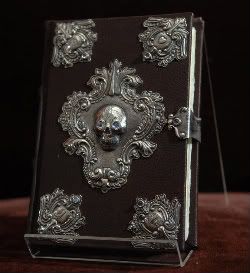 J.K. Rowling's
Tales of the Beedle Bard
began as a book referenced in one of the Harry Potter novels and now exists as seven iconic books. The book purchased by Amazon.com (for just under GBP£2 million/USD$4 million) draws on traditional medieval grimoire imagery, including silver ornaments and and a skull for an appropriately wizardly appearance.
Amazon's announcement
of its purchase of one of the seven books draws attention to its physical qualities in the second paragraph of the article:
The Tales of Beedle the Bard is extensively illustrated and handwritten by the bard herself--all 157 pages of it. It's bound in brown Moroccan leather and embellished with five hand-chased hallmarked sterling silver ornaments and mounted moonstones.
Bookbinders and collectors might be particularly interested in the large, detailed photos following the Amazon article.