American sculptor Daniel Edwards, known for his controversial works depicting Britney Spears giving birth and Paris Hilton undergoing an autopsy, includes a Bible in his latest sculpture.
Iraq War Memorial: Death of Prince Harry
depicts the prince with his head resting on a Bible. The iconic value of the book is strong here, as this is a Bible that cannot be opened, read, studied, or performed, but it is poignantly associated with death and political commentary.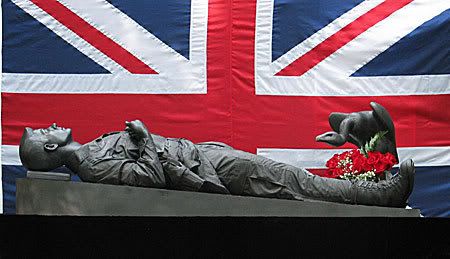 I am curious about the ritual this artist is portraying, and I would appreciate comments on it. Plutarch mentions that Alexander the Great kept a copy of the
Iliad
beneath his bed when he was on campaign, so there is a long precedent for keeping one's favorite text nearby, but I'd like to know if this is done in funeral or burial rituals. Does any funeral practice (past or present, any culture) really include using scripture in this manner or is this an artistic trope?