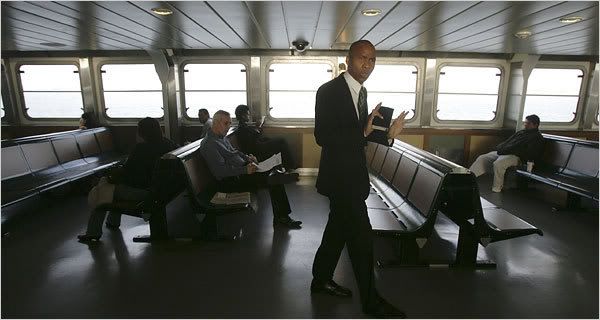 A recent
New York Times
article demonstrates one of the most common iconic uses of a Bible in visual or descriptive media: the Bible serves as
the
distinguishing feature marking its holder as a Christian or a preacher. The headline, accompanying photograph, and second paragraph of
"Rocking the Boat: The Man With the Bible"
all foreground the Bible as the trait that setting Michael Nwadiuko apart from the other passengers on the
Spirit of America
ferry:
Rocking the Boat: The Man With the Bible



AS the Spirit of America's engines sputtered to life early last Tuesday and the ferry began its trip from Staten Island to Lower Manhattan, Michael Nwadiuko strode purposefully toward the back of the main deck, where groggy commuters read the morning paper and nursed cups of coffee.

In his navy suit and gray tie, Mr. Nwadiuko looked as if he were headed to a job on Wall Street.

Only the Bible in one hand revealed his more spiritual aspirations.



[. . .]
The use of the Bible as the marker of identity is curious in this introduction, as the rest of the article examines another way in which Mr. Nwadiuko reveals his "more spiritual aspirations" as it discusses his (often unwelcome) preaching to the other passengers. The article is not about a man "with" a Bible or "only the Bible in one hand" as much as it is about a man talking to other passengers, yet the author and photographer have made choices to signal Mr. Nwadiuko's identity primarily with his Bible.